Called and Favored Women's Conference, October 28, 2017
Westchester Christian Worship Center, White Plains, NY 10605


Praise and Worship
​
Guest Speaker Pastor Linda Schreck
Pastor Linda gave over 200 women biblical facts to illustrate how they are called and anointed by the King. Her message highlighted how, "When the King Calls You…": it is a personal invitation by name, where His restorative nature calms all concerns and fears, covering all issues creating a seat at the table. Praise point; we become a child of the King (moving from where we've been – to where God calls), with no expiration date on Him keeping His word! This is a daily invitation to the table, everything changes! Even if sometimes things look unfavorable; we fall back on the characteristics of being called and favored. As in being obedient to the calling, pointing others to God, resisting temptation, and knowing that His plan is unfolding. Our Father is faithful, everything we need is at the table!

​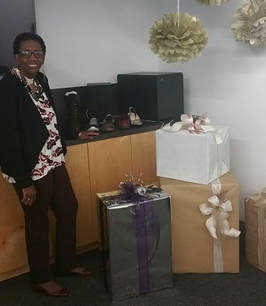 Essentials For Change Break-out Session
The Gift Within

Learning who we are in Christ is based on "Our Faith Walk", as we learn to trust God. It's a personal experience between God and His daughters, where we don't get to choose which steps we take. Finding the gifts that God has placed within us, can be camouflaged by the pain and hurts we encounter along the path of revelation.

Ultimately, the stages our Father takes us through, all work to develop the gifts He has placed within us. I paralleled this progression of faith in life with shoes. Heavy duty boots represented the difficult deep times of struggle and pain. Sneakers embodied running into new habits, gathering, sorting, and renewal. Sandals characterized an opening of knowledge, freedom and room to breathe. Comfortable Shoes signified resting in the benefits of keeping Jesus in the center of everyday. High Heals indicated the ability to walk above the world's hassles, finding peace, joy and direction for life, in spite of trouble.
---
This conference was a prime example to me of how God has the master plan.
​At this mature stage in life, the Lord has told me to let Him do some of the heavy work. But, my gifts of organization, management and leadership could not wait to do its thing. I started out on the Women's Conference Committee, but felt so overwhelmed that I had to drop out. With the exception of giving the committee a slogan and picture for the program cover; I did nothing to coordinate our conference. It took more faith and trust then I thought I had, for me to shut my mouth in obedience.

The fact that I stood before 115 women in my combined two sessions, say the conference was a success without my help. God has a sense of humor, it was as if the Father said, "See, I did this without you, rest Gayle and trust Me, I will take care of everything in your life".

Priceless! All steps lead to God and the gifts He has placed within us for His glory, as we are called and favored.

​

The Style Marshall Break-out Session
Modestly Stylish

Danielle Marshall is currently a Free-lance Wardrobe Stylist, an IMDB-credited Costumer and Wardrobe Supervisor for Television and Film. Her keen eye for details and fresh approach to styling, makes her a perfect fit to balance both sophistication and ground-breaking fashion trends. Her session was a chance for women to embrace the totality of who God created them to be, from the inside out. A fine example of the concept – "loving the skin you're in", as in presenting the coverings of your body as a beautiful sacrifice to our Father. Women learned how to dress with style and class according to biblical principles without looking outdated or overly religious.

​Danielle showcased her creations in a mini fashion show as part of the conference finale. The model participants from her session represented an inter-generational group of women, with a variety of body shapes, skin tones and hair styles. They were a lovely tapestry of God's handiwork and favor for His daughters.

​







---